Kate's
Listography this week is the top five sweets I loved when I was young. Here is my list for this week . . .
1. Sherbet Fountain - This was a tough decision, either a fountain or a DibDab but I love licorice so the fountain won.
2. Black Jacks - loved that they made my teeth black!
3. Irn Bru bars, sent me hyper but I loved them.
4. Laffy Taffy (these are American and my Dad used to bring them back for me when he worked over there)
5. Soor Plooms (used to buy a quarter of these from the wee shop next to the Picture Hoose in Kirkcaldy, ah the nostalgia)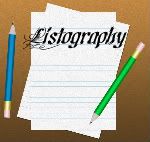 "/>