Kate Takes 5's
listography for this week is 'Things I'd Love This Valentines'. Scuba Steve and I
don't do Valentine's Day
:'(
Before we got married our unofficial anniversary was in March so we didn't see the point in celebrating twice so we just dropped Valentines Day. I know its bag of commercialised shite but I can't help looking longingly at all the red and pink lovely things in Asda when I pass the seasonal aisle! I used to wonder why my parents never celebrated it when I was young and I remember pestering my Dad to man up and be romantic. There must just be a point in a relationship when romance flies out the window and is replaced with common sense and a healthier bank balance.
Anyway, in the spirit of Listography, here is my top five things I would love this Valentine's Day . . .
I absolutely love the range of gifts by '
The Bright Side
' they are so quirky and most definitely me! Here are a few example of things I like from their range . . .
1.
It's a running joke in our house that I am always writing lists!
2.
I am also a very keen reader
3.
I am also a terrible hoarder and I love keeping things in boxes and driving Steven mad with the sentence 'I'll put it in a memory box'. I don't own a memory box! I like this one though!
Images courtesy of this
Rustic Angels
and
Campus Gifts
4. You can never go wrong with lovely flowers and I love lilies and carnations! My friend Fiona bought me these lovelies last year when I went on maternity leave . . .
5. Lastly, you can't beat a good chick flick! I missed this one at the cinema as I had just given birth to Grumpinator when it was released and that was at a time when he was certainly living up to his nickname!
Great list this week Kate!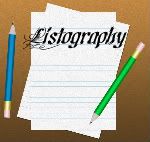 "/>